Test Completion
Male, age 34. College lecturer. Recently separated from wife and living alone.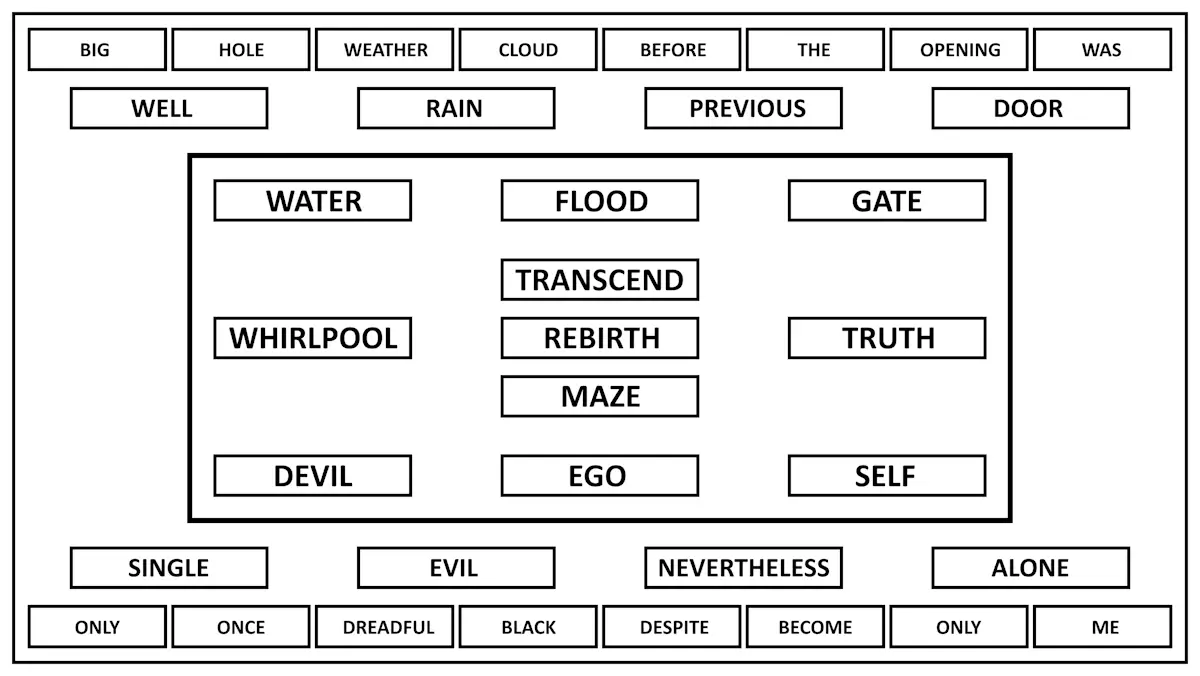 The Watchword Keys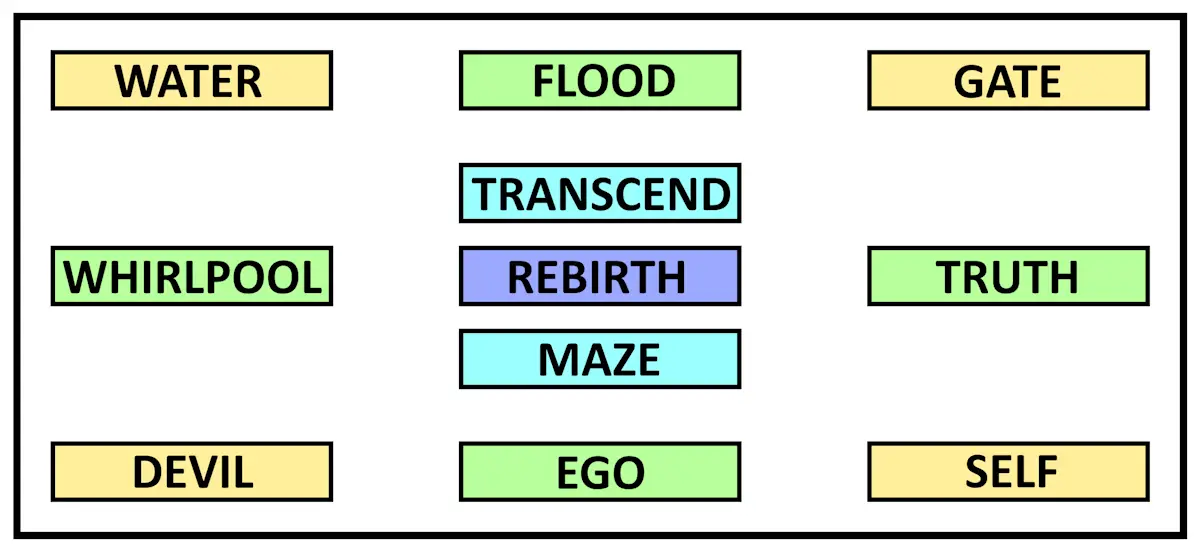 Psychological Type
Dominant Attitude: Introversion
Dominant Function: Intuition
Auxiliary Function: Thinking
Psychological Type: Introverted Intuitive Thinking (Intuition Dominant)
Equivalent MBTI® type: INTJ
Dominant Theme
Emotional turmoil.
Need to overcome or transcend conflicts between good and evil, order and chaos, inhibition and involvement.
GIANT and DWARF
These two Keys represent progressive and regressive  tendencies in your personality or current situation.
GIANT
DWARF
   WORD
FLOOD
EGO
   INTERPRETATION
Need to open up to new spiritual energy.

Need to open up emotional flood-gates.

Need to drop defences.

Development is being inhibited by a concern with protecting self-esteem and a sense of control, and by a narrow-minded, self-orientated approach to life that fails to take a genuine interest in other people.

Tendency to take self too seriously.

SOUL and PERSONA
These two Keys represent the inward and outward aspects of your personality.
SOUL
PERSONA 
   WORD
WHIRLPOOL
TRUTH
   INTERPRETATION
Inner, emotional life is in turmoil.

Inwardly confused, lost, and at the mercy of powerful emotions which threaten the sense of self-control.

Outer personality is intelligent, honest, reliable.

Truth is a dominant conscious concern (or pose?).

Intellectual curiosity.

Wanting things right and true.

GUIDE and IMAGO
These two Keys represent the progressive tendencies in, respectively, your inner world, and outer life.
GUIDE
IMAGO
   WORD
WATER
GATE
   INTERPRETATION
Inner strength is innocence, sensitivity.

Inherent spiritual concerns.

Message to relax emotionally and to yield to the natural course of events.

Take a more spiritual perspective.

Conscious desires for new (sexual?) experience or a greater sense of control.

Anticipated opening up of fresh opportunities.

SHADOW and SPECTRE
These two Keys represent regressive forces in, respectively, your inner and outer life.
SHADOW
SPECTRE 
   WORD
DEVIL
SELF
   INTERPRETATION
Unrecognised 'devilish' qualities in self (e.g., violence, cruelty).

Repression of personal pain and anger.

Anxieties around loneliness.

Problems in relationships caused by insular tendencies.

Too self-contained.

STATION and BATTLE
Station represents your overall psychological situation at this particular time.
Battle represents aspects that need to be addressed in order to move forward.
STATION
BATTLE
   WORD
MAZE
TRANSCEND
   INTERPRETATION
Basic situation is a time of identity crisis, difficulty and confusion.

But also a time of challenge, opportunity and adventure.

Heroic stance being taken to difficulties.

Major moral task is to go beyond current constraints and difficulties.

Need to take a broader perspective and to transcend egocentric concerns.

DESTINY
Finally, Destiny represents the anticipated resolution or outcome of your journey.
It is important to realise that this is NOT a fatalistic prediction of what will occur. Rather, Destiny suggests your psyche's 'best guess' of a possible future situation, based on its assessment of the direction in which you are currently moving.
| | |
| --- | --- |
| | DESTINY |
|    WORD | REBIRTH |
|    INTERPRETATION | Final resolution of problems will involve a fresh start or fundamental transformation in attitudes and approach to life. |