Like many mandala symbols, the Watchword matrix is based upon the principle of four, represented by the four primary directions in which an object may move on a two-dimensional surface – i.e., forward (or upward), backward (or downward), left and right.
These directions can be represented by the equal-armed Greek Cross, made with a single vertical and horizontal line. The Greek Cross is widely believed to symbolize the radiation of the cosmos from a central point. Since this cosmos may be interpreted not only physically but also psychologically, the Greek cross can also symbolize the radiation of the psyche from the centre of consciousness and personal being.
In the Watchword system, the vertical line of the Greek cross, cut in two by the horizontal, signifies the distinction between psychological tendencies that are (1) progressive, superior, or dynamic and those that are (2) regressive, inferior, or static.
The horizontal line divides the left and right "hands" of personal being. The left hand signifies the subjective, unconscious inner world, whereas the right hand represents objectivity, consciousness and the outer world.
Yet the cross is much more than a symbol of division. More fundamentally it carries the promise of balance, of union, and the conjunction of opposites. As such, the Greek Crpss is a major symbol of self-realization or individuation. [Note 2]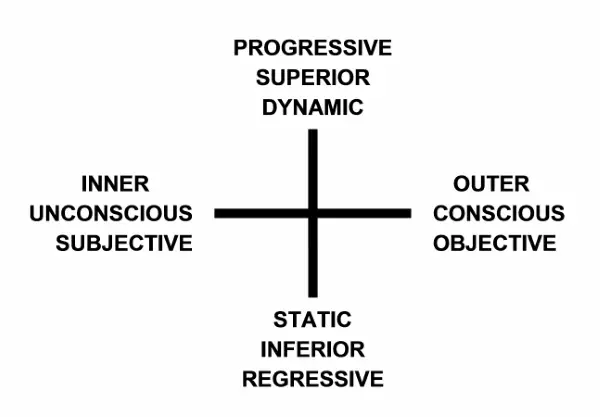 The Cross of Self-Realization